VR tours are becoming standard practice thanks to advancing technology and its ease of use in recent years.
These days, you see more and more developers, custom home builders, and even real estate agents using virtual reality to gain an edge. Consumers have come to expect a certain level of forward-thinking from the companies they consider doing business with. Using VR. To show and sell homes is becoming a new marketing standard.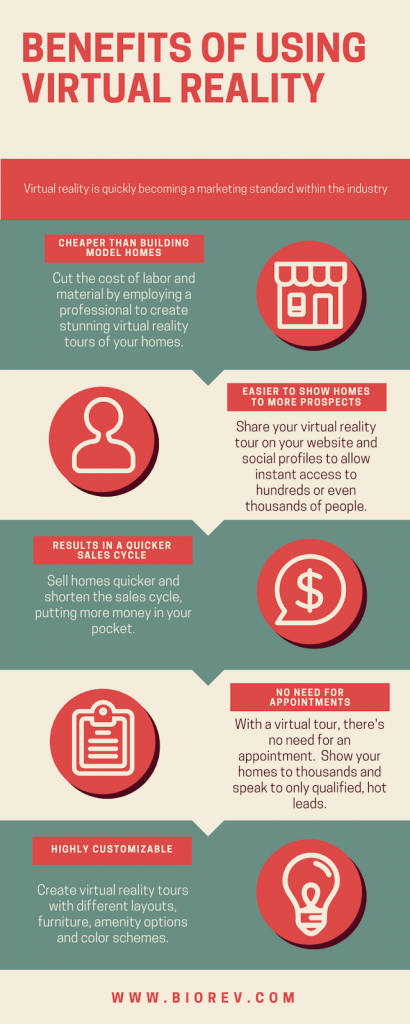 It's not just about selling the home. VR tours also help streamline the entire development process by allowing city officials, architects, and even potential investors a walkthrough. Who says it all has to be interior for the home buyer? Much like drafting a business plan, having a VR tour available early on can help you spot potential issues or drawbacks before you start investing time and money.
Consider how expensive and time-consuming it is to create models of the homes you wish to build and sell. Obviously, some level of research is going to be in order before you start the construction process, otherwise, you may end up with dozens or hundreds of homes that no one really likes<
Creating models and bringing in focus groups used to be (and still is, in some cases) the way to go. But first, you need the space to build the models. How many models are you building? Likely 3-5 different variations. Then you have to purchase the materials and get them built.
After that is done, you're now tasked with getting people who you hope are your target market to come and take a look at these models and provide honest feedback. Or, you can just do a high-quality 3D virtual reality tour and save everyone the hassle. Market your VR tours on your website and social accounts and away you go. Instead of having a few dozen people providing feedback, you now have hundreds – instantly.
There are some companies that charge tens of thousands of dollars to do a high-quality 3D virtual tour of a home. BIOREV 360 is an award-winning application that would help builders with their VR needs, whether you want interior, exterior, or 360 hotspots. Compare that to creating several models of a home, then having to tear them all down.