The sparkling Palais de Cristal reigns over a promontory overlooking the Pacific, in the aptly named enclave of Crystal Cove.
The unrivaled estate in Newport Coast, CA, recently appeared on the market at an unrivaled price point: $69.8 million. It's currently the most expensive listing in Orange County.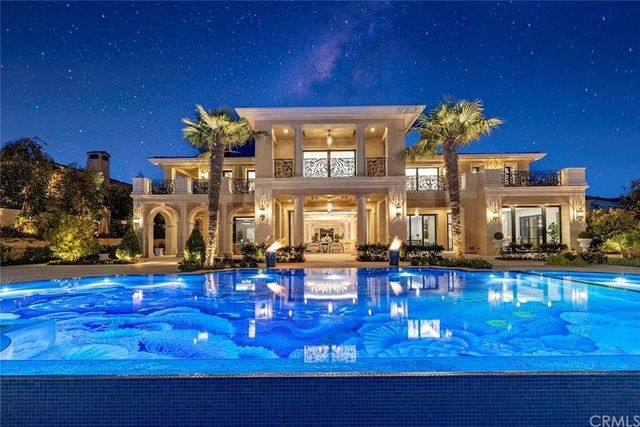 Opulent in every way, the mansion was designed by a member of furniture industry royalty, Michael Amini, known to some as the "King of Bling."
Amini went all out: He has adorned his castle with jaw-dropping amounts of marble, onyx, crystal, and gold, among other precious materials.
You step through the majestic front doors into an enormous marble foyer, flanked by two dramatic staircases and lined with railings detailed in 24-carat gold. Underfoot is a mosaic of Jordanian marble. Overhead is a colorful glass dome, with Swarovski crystals suspended from the central eye motif.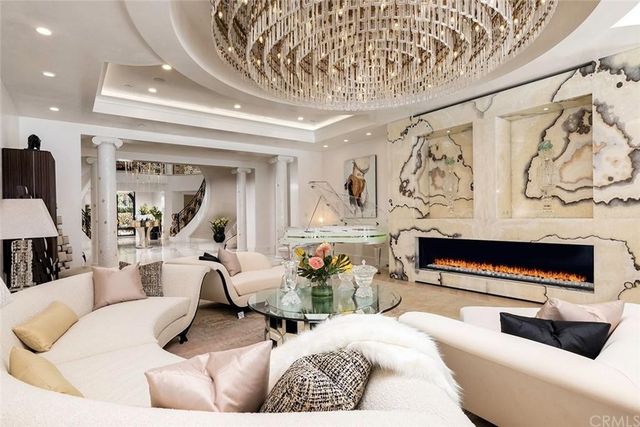 Amini spent prodigiously to create the property exactly as he wanted it.
In the salon, entire walls are faced with onyx and glistening crystal chandeliers, and the room is dominated by a light fixture crafted entirely from crystal prisms.
Of course, the seven-bedroom, 13-bathroom,15,500-square-foot mansion is grand in scope, but the exterior is just as dramatic.
The home includes 3,640 additional square feet of decks and loggias looking out over the Pacific and Newport Harbor, with vistas all the way over to Palos Verdes and Los Angeles.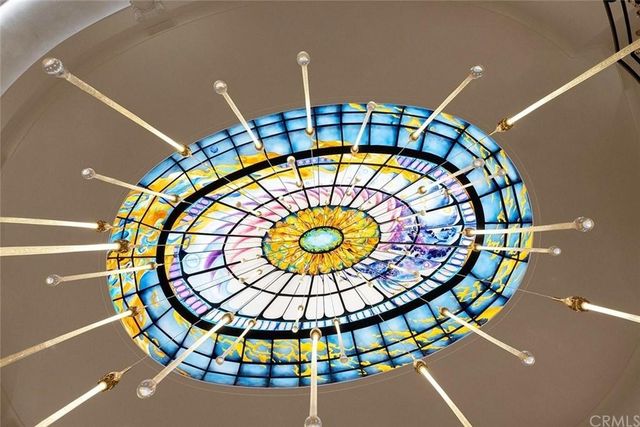 The remarkable pool is decorated with a mosaic crafted by artisans brought in from the United Kingdom.
They assembled handmade tiles to create a work of art christened "Sunrise to Sunset," depicting aquatic scenes at dawn and dusk.
Also impressive is a subterranean entertainment pavilion, which features a state-of-the-art theater whose ceiling is ablaze with twinkling lights. An elegant entertaining bar rivals those of most hotel lobbies, and there's more: a Life Fitness gym, and a Zen massage room with all the accoutrements for wellness and relaxation and wellness you could possibly desire.
The mansion's master suite is its own world of luxury.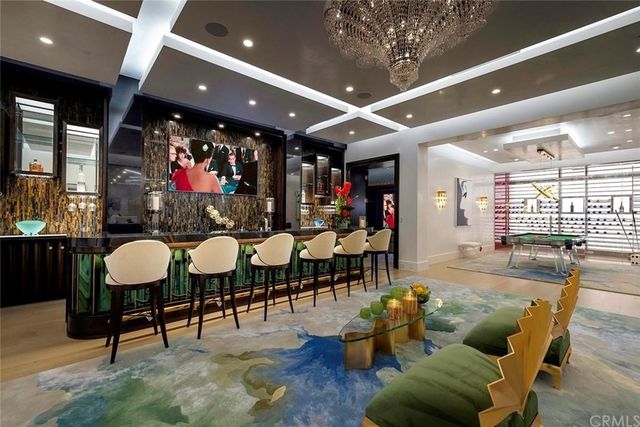 It has custom cove ceilings and golden chandeliers, an impressive marble fireplace, and a balcony with drop-dead views. The two individual bathrooms come with heated marble floors, state-of-the-art fixtures, and oversized glass showers.
The closets (also two) are designed to invoke the feeling of an upscale luxury department store. No need to run to the kitchen for a snack: The suite has its own kitchenette.
In addition to all this extravagance, let us not forget the climate-controlled garage, which measures 3,725 square feet and accommodates at least 10 cars.
It can be converted to a dance club or event venue with the flick of a few switches. An auto turntable can serve as a dance floor or a place to showcase art or luxury goods.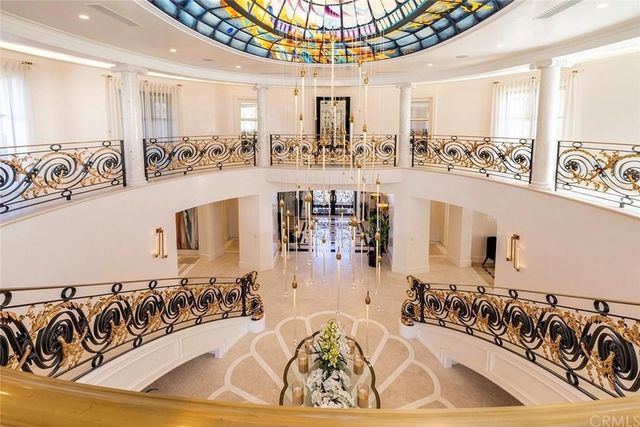 Amini hasn't revealed what he spent to develop the property, but public records show that he bought the 0.55-acre lot in 2007 for $5.1 million.
As he told the Wall Street Journal, he poured his heart and soul into the Palais du Crystal, but now that the children are grown, he and his wife no longer require such a spacious expanse. It's high time for a new owner to reign.